UPVC Cleaning in Devon and Somerset
UPVC is a highly durable and affordable material, making it a popular construction material. While it generally requires little maintenance, UPVC surfaces need regular cleaning to prevent damage and keep them in good condition.
Proclean offers a professional UPVC cleaning service in Devon and Somerset, working with commercial and residential clients to keep the UPVC components of your property clean. We can clean a wide variety of UPVC surfaces, including doors, windows, roofs, soffits, fascias, gutters, conservatories, and more, working hard to deliver a stunning clean every time.
No matter the state of your UPVC surfaces or the size of your property, our operatives have the specialist skills and equipment to leave your home or commercial premises looking as good as new. To find out more about how we can help you, and to receive your free, no-obligation quote, get in touch with us today on 07816 135077 or at office@proclean.me.uk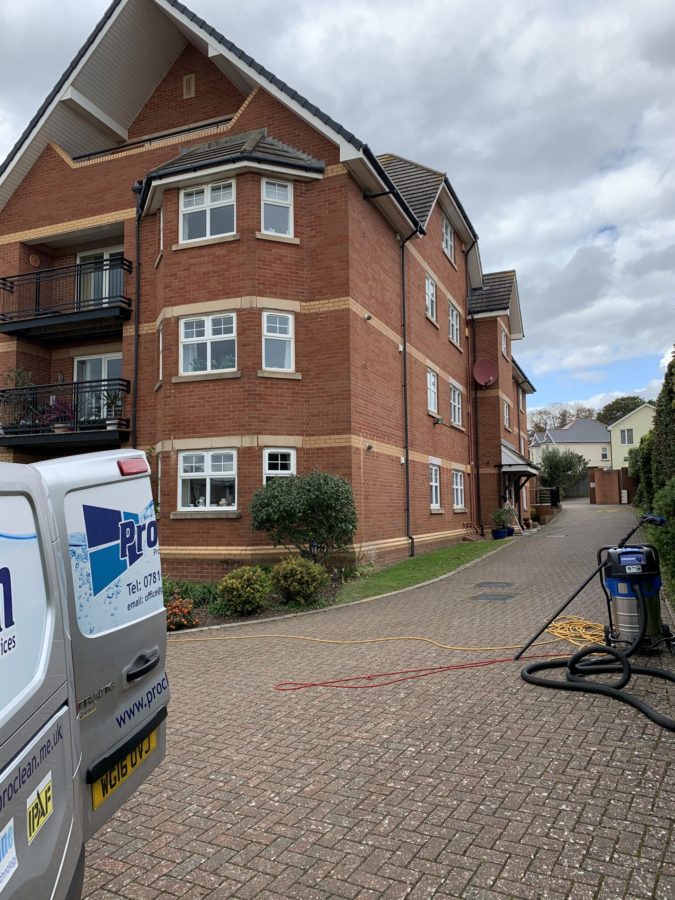 Why is UPVC Cleaning Important?
The nature of UPVC surfaces means that, over time, they can accumulate a wide range of dirt and grime, including moss, algae, and other organic matter. These stains are not easy to clean and can leave your property looking run down and unsightly. Regularly cleaning your UPVC gutters, fascias, soffits, conservatories, and window and door frames will prevent any potential damage while keeping your property looking inviting and visually appealing.
Proclean can restore all your UPVC products to their original state using the latest, state-of-the-art cleaning equipment. We take pride in professionally, thoroughly, and efficiently cleaning your UPVC surfaces, leaving them in pristine condition.
Our UPVC Cleaning Techniques
The expert technicians at Proclean have years of experience in carefully cleaning all types of UPVC surface, taking great care to deliver an excellent cleaning service at all times. Our specialist skills and equipment allow us to complete cleaning jobs at a wide variety of heights while maintaining the highest standards of Health and Safety.
Before beginning any work, our team will assess the state of your UPVC surfaces and determine the best cleaning method to deliver the best results. Whether your surfaces require soft washing or high-pressure cleaning, our team will provide an efficient clean that suits your needs.
We use the latest tools to ensure a quality clean, including extendable water-fed poles, to leave your UPVC surfaces looking fantastic. We are also fully IPAF licensed, allowing us to safely operate the specialist equipment necessary to efficiently clean even the hardest to reach areas at any height.
In addition to our high-tech equipment, we also use specialist, eco-friendly cleaning solutions designed to eliminate all traces of the organic contaminants that cause staining and discolouration. These solutions ensure your UPVC surfaces stay cleaner for longer, saving you money and increasing the overall curb appeal of your property.
No matter the size of your property or the extent of your needs, our professional contractors have the skills and experience to deliver a cost-effective, fully bespoke service sure to leave your property in excellent condition.
Get in touch today on 07816 135077 or at office@proclean.me.uk to learn more about how Proclean can help you.